Sterling Renaissance Fair: "A" for Accessibility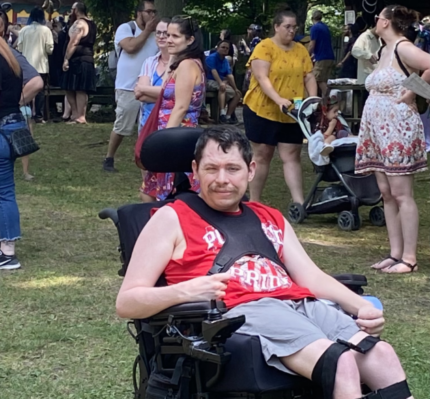 For people with disabilities getting out to enjoy a few hours outside of the house can be a huge challenge, more so now as we all are dealing pandemic setbacks. When I have an easy time negotiating at a location or have a great experience, I like to share that with friends. It's still hard to believe that 30 years after the ADA was passed as law, people with disabilities are still finding barriers.
Recently, my family and I decided to have some fun at the Sterling Renaissance Fair. There was plenty of handicap parking in a field near the main entrance. Just seeing all the patrons dressed up in medieval clothing was very entertaining. As we entered through the gate, it was nice because we were then in shaded woods. In 90-degree heat, that was very much appreciated! The layout of the Fair was exceptional as I could maneuver the wide gravel pathways without much trouble.
We did see lots of interesting things. There are professional actors who perform on five stages throughout the fair and lots of smaller acts scattered throughout. There were no problems seeing or hearing these entertaining performances.
I would say it was a fun and easy event to attend. The parking was convenient, the gravel walkways were wide enough, and being in the woods was comfortable even on a very warm day.
Mike Theobald is a contributing writer to the ARISE Website and a part-time employee. His stories offer a unique perspective on life in Central New York