Save CDPAP!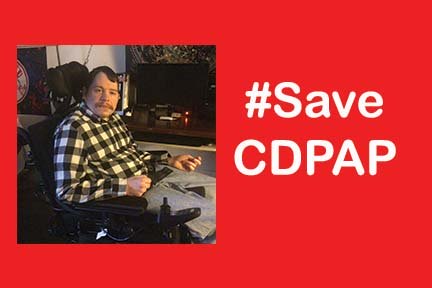 It's the beginning 2022 and the year ahead does not look promising.
Staffing shortages due to low pay for Direct Service Professionals (DSP) in healthcare and decreases in state funding for the Consumer Directed Personal Assistance Program (CDPAP) has now reached a crisis point for people with disabilities, like me, who rely on these services. I have an independent lifestyle and I contribute to the community I live in. These basic rights are being threatened for me and many other people with disabilities.
New York Governor Kathy Hochul is promising to make disabilities issues a higher priority. Our Central New York State lawmakers are calling for more support and funding changes as well. I can only hope that positive action will prevail in Albany as they put together the 2023 budget.
There are factions in state government that want to eliminate these local services that are provided by agencies like ARISE, Access CNY, and Trucare Connections. If local control and relationships are lost it would be devastating to the local disability community. If not for these local providers, I would not be able to remain in my apartment. For many, that loss of independence would mean life in a nursing home that would cost the state millions more than what is in place now. This vital service needs to remain local; it's proven itself to me many times over. This service allows me the independence to live as good a life as possible under difficult circumstances.  Please keep the CDPAP service as it is!
Mike Theobald is a contributing writer to the ARISE Website and a part-time employee. His stories offer a unique perspective on life in Central New York