Ombudsman of the Year!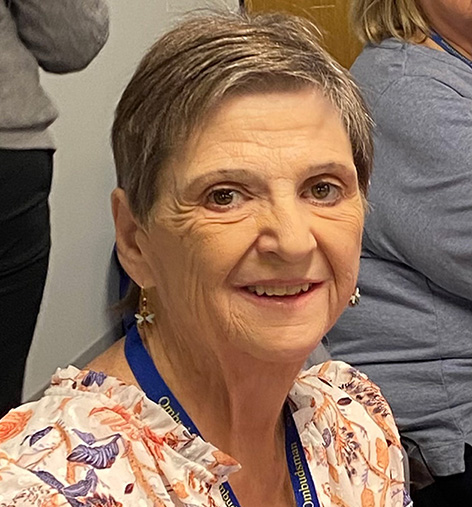 Congratulations to Cathy Dietrick for being honored as "Ombudsman of the Year" for Region 10.
Cathy has been a certified Ombudsman volunteer for over 15 years, with 5 of those years with ARISE. The average time spent in a facility is 2-4 hours a week. Cathy consistently spends 10-12 hours weekly advocating for the residents of Loretto Skilled Nursing facility. Residents describe Cathy as a "ray of sunshine" and know that she is a champion of Resident Rights.
Cathy recently celebrated her 50th wedding anniversary with her husband, James. They have two daughters, Jamie, and Dina and two grandchildren. In her free time, Cathy enjoys hunting for treasures at antique shows and flea markets, as well as walking at various lakes and parks in Onondaga county.
Why become a volunteer Ombudsman? Volunteer Ombudsman have the power to change lives and positively affect resident's health and well-being. They help provide a voice to resident concerns as well as empowering residents and families to have a voice in ensuring their rights. The Ombudsman program goal is to see residents have the very best quality of life possible while residing in any long-term care facility.
Would you like to know more about volunteering as an Ombudsman? Contact:
Rebecca Alder
Regional Ombudsman Program Manager
email: ralder@ariseinc.org
voice: 315-671-5108