ARISE Awarded $99,000 by the New York State Council on the Arts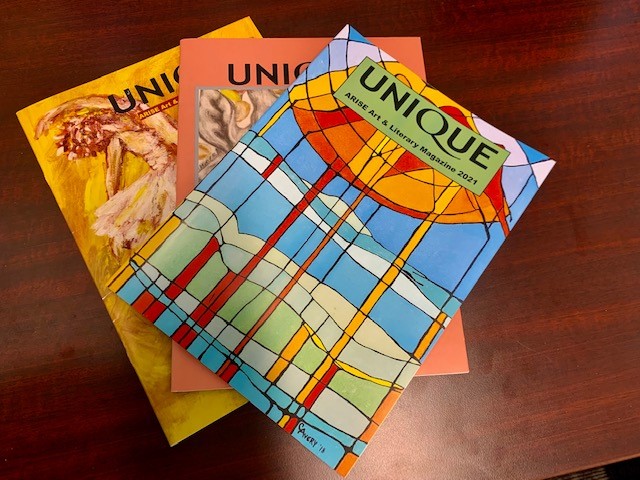 ARISE announced today a grant award totaling $99,000 from the New York State Council on the Arts (NYSCA) to support the recovery of the nonprofit arts and culture sector. This two-year grant is essential to ARISE's UNIQUE Art & Literacy Magazine and Exhibit Program. UNIQUE is an Art and Literary Magazine that shares the artistic visions and voices of individuals with disabilities. The creative work published in UNIQUE includes poems, paintings, drawings, photographs, sculptures, and computer-based art.
Following New York State's $105 million investment in the arts for FY2022, NYSCA has awarded more than $80 million since June 2021. "The arts have long been a critical sector in our economy, and as we continue to rebuild a stronger New York, it's essential we do all we can to help this industry thrive once again," NY Governor Kathy Hochul said. The UNIQUE magazine showcases artworks from Onondaga, Oswego, Cayuga, Seneca, Madison, and surrounding counties.  "As an Independent Living Center, ARISE supports every aspect of the lives of people with disabilities, and that includes their creativity,"  said Tania Anderson, CEO of ARISE.  "We know that communities thrive when all people are included, and this applies to people with disabilities and our arts community.  We are grateful for New York's support of our UNIQUE project." The magazine is published in August and the exhibit goes on display for a month at the Everson Museum of Art in Syracuse.
"NYSCA applauds Governor Kathy Hochul and the New York State Legislature for their responsive investment of $105 million for the nonprofit arts and culture sector. 2022 will continue to bring change and ARISE will play a vital role in the renewal of our state's economy and creative ecosystem," said Mara Manus, Executive Director, NYSCA. "On behalf of the entire NYSCA Team, we wish to extend our sincere congratulations on your award."
ARISE's UNIQUE Magazine program will start taking submissions from Central New York artists in March of 2022 for our August publication.