New Downtown Bus Route—Free Service on Accessible Buses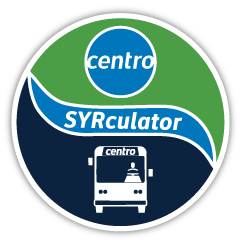 Ever been stuck on one side of downtown and need to get to an event or attraction on the other side of the city center? For many people with disabilities, this was an impossibly hard task. Public transportation, takes you from home to one location and then back home.
Centro has introduced the SYRculator bus route, a 15-min continuous loop, to improve mobility and accessibility.
The new route operates Monday – Saturday, from 11:00 am to 7:00 pm. It's free for all users through Labor Day.
The SYRculator bus route extends as far north as Herald Place, south to Harrison St, east to State St, and west to Franklin St. The route provides riders with access to hotels, restaurants and businesses, and points of interest such as Salt City Market, the Landmark Theatre, Redhouse Arts Center, the War Memorial Arena, The Oncenter, and the Everson Museum of Art.
Check out the Centro brochure—and the bus stop schedule here