My Journey: Finding and Keeping a Job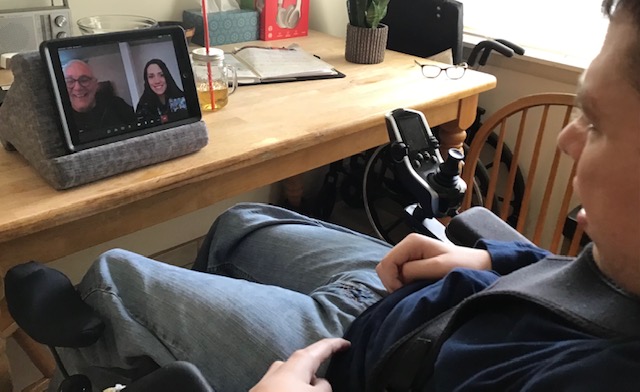 By Mike Theobald
About twelve years ago, I was hired part time by the development department at ARISE to write articles of interest for the disabled and community at large. Since I'm a graduate of LeMoyne and a wheelchair user they felt my insights would provide a realistic representation of how I navigated through life. Through the years, the position has evolved. Originally, I would go to the ARISE office on James Street one afternoon a week. At ARISE, I would meet with my job coach and figure out what topics to consider and begin a rough draft. One of the most shared and read articles was the arduous task of getting a new wheelchair – over a year long process!
The last 12 years would have been a lot different if it were not for the ARISE Employment program. If a person with disabilities is interested a job, they need to complete an application for ACCES-VR and state what services they hope to receive. A vocational rehabilitation counselor will contact them, meet and send paperwork to the desired agency. Once the agency receives and processes the paperwork, an Employment Consultant is assigned to the case. From this point, an intake is completed and the Employment Consultant works on pre-employment skills with the individual, such as interviewing, applying, and networking with local businesses. Once someone begins working, a job coach is assigned to them. Job coaches aide individuals with learning the job, building a routine, maintaining a schedule and learning new responsibilities. Coaching support starts out at 100% on site for an individual and upon job skills being acquired and maintained, the coaching supports gradually decrease. The job coach meets at minimum once a week at the job site with very close supervision. The job coach also serves as a mediator between management teams and an employee in terms of issues that come up, or if the employee wants to inquire about a new position or promotion. Its important management learns how individuals are unique in their talents to ensure success on the job.
Since COVID, I'm 100% remote. We meet virtually one afternoon a week on "Teams". We still brainstorm ideas and see how the current article is doing as far as likes and shares. I usually submit an article a month, then it's posted on ARISE's website. It takes a lot of teamwork and effort to make this happen, my speech is difficult to understand and it does get frustrating getting my point across.
Constant improvement on my part has helped me with this job. For example, I have been searching for an assistive communication device. (Learn more on this story by clicking here) The new device will hopefully make communication less frustrating. If you are disabled you know how tough getting new equipment can be. I plan on continuing with this topic as the journey to secure new technology continues. So, stay tuned…
If you want to more about ARISE Employment Services click here.
Mike Theobald is a part-time employee of ARISE who writes a web blog about disability issues.