Finding a Proxy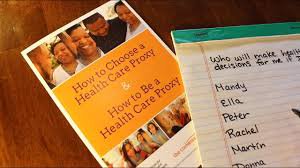 By Mike Theobald
I am having a very difficult time deciding who to have as my Health Care Proxy agent. New York State allows individuals to ask a family member or friend whom I choose, to make medical decisions for me if I ever become incapacitated.  This document is called a health care proxy. The proxy goes into effect when the doctor determines a person can no longer make those decisions. By having a proxy, I make sure my health care providers follow my wishes and avoids confusion of treatment among family members. This person will make decisions as my health status changes.  The good news is I can give as much or little decision making to my agent. In my situation, it is very beneficial to have a health care proxy since my speech is difficult to understand. No one is required to have a proxy, this is voluntary.
The proxy gives your designated person authority to make all health care decisions, treatment, service, or procedures to treat physical or mental conditions. Your agent needs to know your wishes about nutrition and hydration and will begin making those decisions when deemed necessary. A person needs to thoughtfully decide treatment and limit decision making options on their proxy. Your agent cannot overrule your wishes that are spelled out in the proxy. If your agent is not available when needed, you may appoint an alternate agent, or the health care provider will make the decisions. A copy of the proxy form should be kept by your designated person, your doctor, your family and in your wallet or purse but not in a safe. The proxy should be easily assessable.
With the above information in mind, I was uncertain who my proxy should be.  My family members have very wide views on medical interventions, it is either all or nothing!  To be a proxy, the person must be trusted to follow my wishes even if they disagree with them.  Maybe it's just me, but this is a tough decision, I am going to struggle over the next few months before I make this very important decision. 
Mike Theobald is a contributing writer to the ARISE Website and a part-time employee. His stories offer a unique perspective on life in Central New York