Fall Fishing on Oneida Lake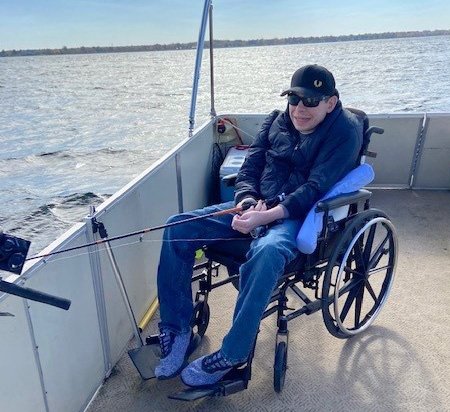 By Mike Theobald
When the opportunity came up to go fishing on a boat, I could not pass it up. I went fishing with Advanced Strategies Adventures. This great organization's goal is to offer the opportunity for everyone regardless of their physical abilities, the chance to enjoy the great outdoors. Whether you enjoy the water or the woods, their aim is that everyone should be able to enjoy their passion for nature.
We left A&P Marina in Cicero just after noon on a very sunny mild day. Getting on the boat in my manual wheelchair was accomplished with the use of two portable ramps. I would say we tried six different spots and started catching on the third stop. We ended up catching six fish. The fishing pole had a button on the reel which reeled in or let out the line, which was a nice accommodation. Throughout the adventure, we were constantly checking the fish finder, scoping out other boats that appeared to be catching fish, we didn't miss a fishing trick!
This was an excellent afternoon with tons of fresh air and non-stop laughter, we arrived back at the dock at 5pm. A truly great and inclusive adventure!
Editor's Note: In keeping with a long-standing tradition in the fishing community, you will notice that Mr. Theobald did not mention just how big any of those six fish were.
🤐