Compass Federal Credit Union Supports ARISE Ramp Program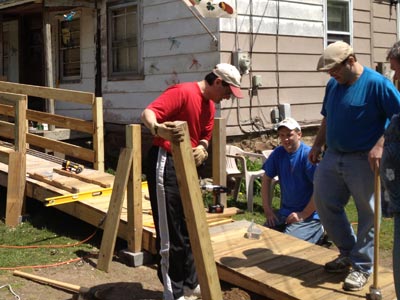 The ARISE Ramp program provides individuals with the freedom to leave their homes. For decades, the ramp program has been supported by individuals and businesses in the community.
ARISE would like to recognize and thank, Compass Federal Credit Union who recently partnered with ARISE to donate $1,650 towards purchasing ramp building materials for Oswego County residents in need. "It is our pleasure to partner with ARISE CNY in this effort," said Compass FCU Manager, Jennifer Rupert. "Giving back to the community is a major component of what we do at Compass. The work that ARISE does to help those with disabilities in Oswego County is fantastic and we are happy to join their dedication to furthering the independent living philosophy and the belief that people with disabilities have the same rights as people who do not have disabilities."
"As we slowly come out of the pandemic this donation from Compass Federal Credit Union could not have come at a better time." According to Tim Mahar, ARISE Development Officer. Compass Federal Credit Union, established in 1966, services more than 7,000 members in the Oswego County community!
To learn more about how you could specifically assist in ramp construction or qualify for a ramp, contact Jim Karasek at (315) 342-4931 or e-mail jkarasek@ariseinc.org.