An Independent Life (Part 2)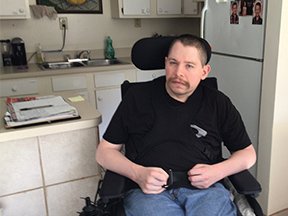 Six years ago, I decided it was time to find an apartment. After graduating from Le Moyne College, I lived in an apartment then moved home with mom and dad. Now was the time to become more independent and on my own.
Luckily enough, I found a ground floor one-bedroom apartment which could accommodate myself and more importantly my wheelchair. The next hurdle was discussing with the building management the major modifications we needed to make. Thankfully, the owners were in favor of whatever changes were required. I signed the lease and now the modification process began.
With the help of my ARISE service coordinator, I was informed that New York state provides modifications every 10 years to my residence to update the original changes or make additional ones as my health needs require. In my case, the modifications included a ramp at the front door to accommodate a 3 ¾" step. Another ramp was made, so I could roll out and enjoy the patio and some fresh air. All the doorknobs were changed to levers so I could easily access my things. The front door had an automatic door opener installed for push-button entry and exit. The biggest project was removing the wall between the bedroom and bathroom to install a ceiling lift. All these modifications took place under the direction of a physical therapist and building contractor. After seven months, everything was in place for move-in day!
I've been here for five years now and still enjoying my independence. My family is close by in case I need anything. I have a life-alert necklace for added peace of mind. Most recently I have added two security cameras so family and my health aides can check on me while I'm alone during the day or night.
Mike Theobald is a contributing writer to the ARISE Website and a part-time employee. His stories offer a unique perspective on life in Central New York