ARISE 40th Anniversary Celebration Dinner Event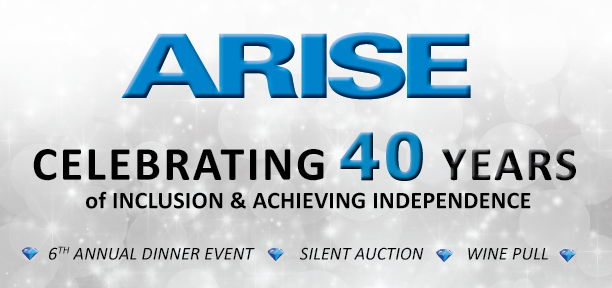 Your support of the ARISE Foundation's Celebration of Inclusion & Achieving Independence Dinner ensures the future of ARISE services for generations to come.
  Event Details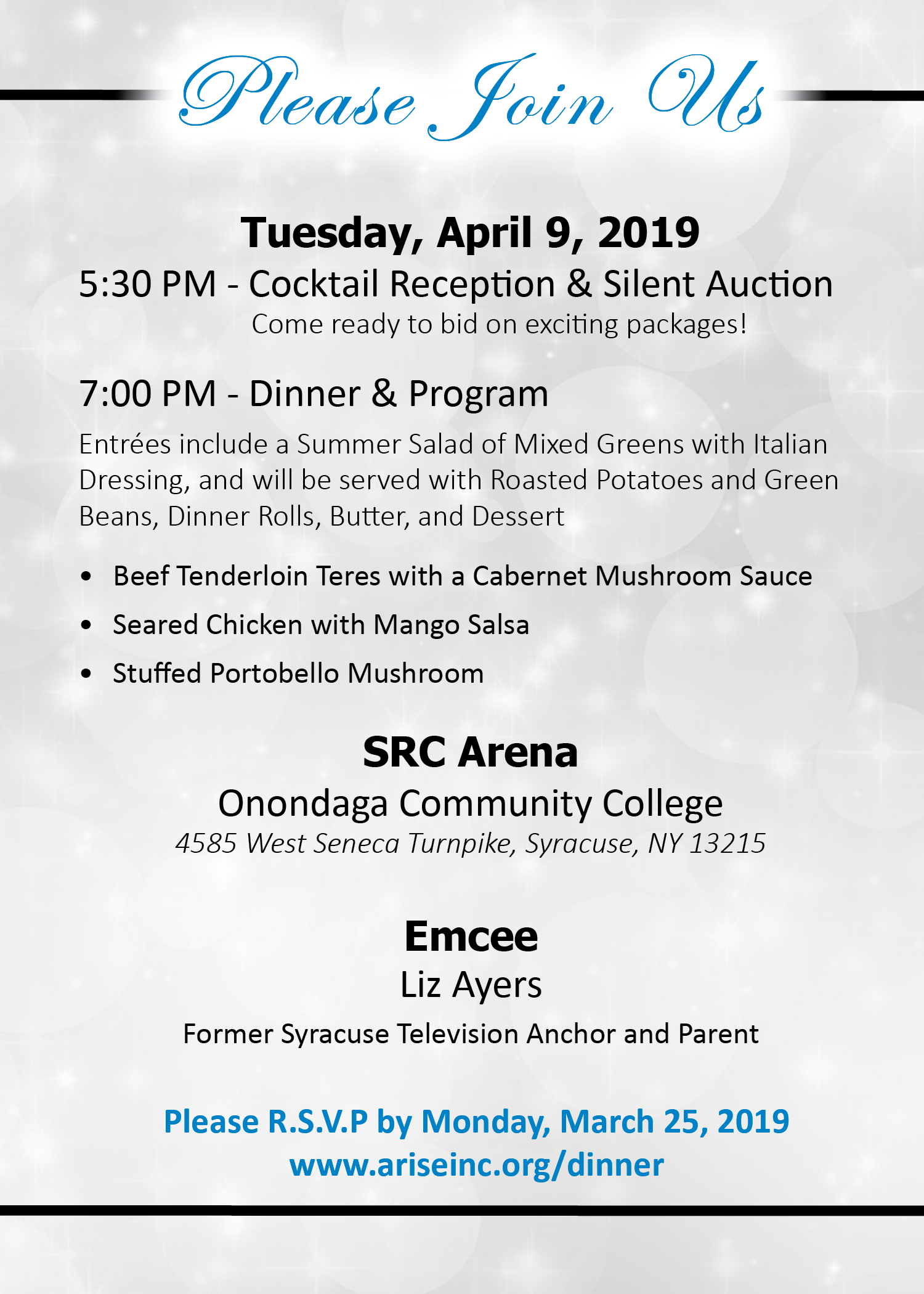 Dinner Tickets, Sponsorships, and Advertising Registrations
** CLOSED **


Thank you to all who are participating in this year's event!
Auction Instructions:
Select Login/Register at the bottom left corner of your screen

Fill in your phone number and provide a password.

Select Register

Fill in the form and Select Submit

Begin Bidding! When the auction ends, Bidr will send you a link to check out
Celebrating the 40th Anniversary of ARISE!
ARISE is a non-profit Independent Living Center working to create a world where all people, regardless of disability, have the power to make their own life choices and achieve their dreams.  One of NY State's eight original Independent Living Centers, ARISE was founded in 1979 by people dedicated to the idea that people with disabilities should have equal rights. As a result, ARISE is an active part of local, regional, state, and national efforts to promote the independent living philosophy.
ARISE is unique. As a cross-disability organization, many of ARISE services are available to people of all ages who have all types of disabilities, including mental health needs. With more than 400 staff members who advocate for the interests of people with disabilities, ARISE employees work to deliver over 50 different programs and services to children and adults in several broad areas including:
•  Advocacy & Accessibility
•  Education, Employment, & Skill-Building
•  Health & Wellness
•  Recreation & Art
At our upcoming 40 Year Anniversary Celebrating Inclusion & Achieving Independence Dinner, we hope that you'll join us as we celebrate such a huge milestone! Your support of this event will help sustain the future of ARISE and ARISE at the Farm as a place for fun and freedom for all!
Click this link to receive your copy of the:
Thank you so
much to our sponsors:
PRINTING SPONSOR

MEDIA SPONSOR

PHOTOGRAPHY SPONSOR

AUDIO/VISUAL SPONSOR

WINE SPONSOR


BEER SPONSOR

PROGRAM SPONSORS
M&T Charitable Foundation

Tania Anderson
Bonadio Group
Bond, Schoeneck & King, PLLC
Bousquet Holstein, PLLC
Brown & Brown Empire State
Edward & Susan Judge

Haylor, Freyer & Coon
Tito's Handmade Vodka
Wegmans
ACC Technical Services
Barclay Damon, LLP
Carrols Restaurant Group, Inc.
Tom McKeown

Mediacom Communications Corporation